On a brisk Minnesota evening in early December, what better to do than get together to drink beer and watch demos with 200+ of your closest tech friends and talk code, startups, business models, and all that good stuff?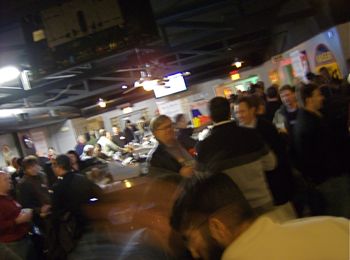 Thursday night, the scene for Minnedemo again was O'Gara's Garage in St.Paul, and the joint was a-jumpin'! We didn't need a band — we were all our own entertainment!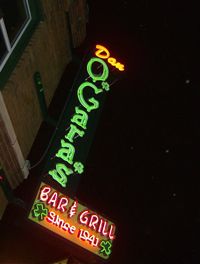 Thanks to our sponsors, we not only got two free beers (or sodas) each, but we also could trade canned food donations for even more beer tickets, so we could then play big shot and buy beer for our friends. Trading canned food for beer….does_it_get_any_better_'n_that? It was a hoot….lots of great conversation and new friends made. You have to be at one of these things to really appreciate the energy of the Minnesota tech community! If you haven't caught one yet, make sure you get to the next one in April (date to be announced). Hey, it's FREE — whadya want?!? 🙂 That one will be the full-day-Saturday version we call "Minnebar." It all part of Minnesota's answer to the worldwide phenomenon called Barcamp — and we are definitely one of the most active locales outside the Valley.
Here's a rundown on Thursday night's great presenters, including some detail about the very cool new products they were demoing:
Ntractive LLC (Dale Jensen, Cofounder/CEO) – This startup, based in Grand Forks, is a winner of the "InnovateND" award, and is receiving its first-round funding from St. Paul-based RAIN Source Capital. Ntractive has developed a "hybrid" app for small business management called "Elements SBM." This app, initially for the MacOS, provides web application flexibility with unprecedented ease of use not generally found outside of the traditional desktop application. The result is a visually elegant and technically innovative solution that allows small business users to quickly become more productive.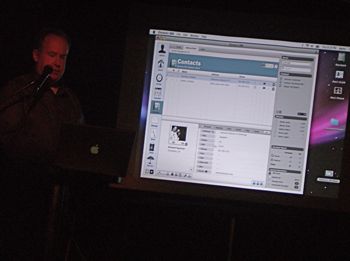 The company officially launches at MacWorld in San Francisco in mid-January, but chose Minnedemo (yay!) as the venue its first public demonstration. Till now, small businesses had to choose a desktop app or a web app, but, said Jensen, "With our hybrid app, we've made it possible for the first time to really have the best of both of those worlds."
Zencoder Video Transcoding System (Jon Dahl, cofounder of Slantwise Design) – Zencoder provides "bulletproof video transcoding."
It's described as a full-featured video transcoding platform that handles every aspect of video processing, from queuing to transcoding to storage. Video transcoding systems are complex and difficult to get right, Dahl said. Zencoder claims its platform is reliable and scalable, costs far less than a custom-built solution, and yet is highly customizable. To be notified when it's released, enter your email address at the site.
Valtira (Morgan Catlin, Product Director) – The Valtira Online Marketing Platform is a complete online solution for marketing professionals. It's "software as a service" — all you need is a web browser. Valtira manages the IT infrastructure, operations, and upgrades from its Tier 1 data center. The platform empowers the marketing team to manage online initiatives without the need for IT support. Components include Content Management, Campaign Management, Blogging and Forums, Prospect Management, Email Marketing, Sales Portals, Social Networking, Online Surveys, Real-time Analytics, and Support & Training. Valtira just announced a new, free campaign tracking solution that lets you track up to 15 marketing campaigns.
JRuby (Charles Nutter) – JRuby is a 100% pure-Java implementation of the Ruby programming language. The JRuby community recently announced the release of JRuby 1.1 beta 1, the first release toward their goal of JRuby 1.1. JRuby 1.1 represents a concerted focus on speed and refinement. Ruby code can completely compile in an Ahead Of Time (AOT) or Just In Time (JIT) mode, yielding a faster Ruby! It uses less memory than previous releases. The community wants people to download JRuby 1.1b1 and provide feedback: "test your applications and help us make JRuby 1.1 a great release."
Grapheety (Gavin Quinn) – A map-based social exploration site. All stories and pictures are tagged onto the map by users. For a part-time effort by a bunch of fulltime employed guys, it's quite an effort. Read more about the latest release here on the Grapheety blog.
All in all, it was another super Minnedemo, and I'm very glad I was there! If you missed it and want more info on the presenting firms, please visit their sites and make contact with them directly. They've love to hear from you! Once again, many thanks to co-organizers Dan Grigsby and Luke Francl for another great job, and also to our illustrious sponsors. They're awesome.
Rock on, Minnesota tech!