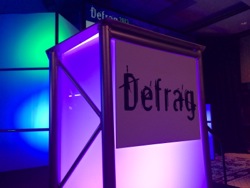 Never one to back away from my incessant quest to discover what's happening next in tech, I of course was right back in the big room on Tuesday morning, even early, ready for more of the firehose. It helped that Eric had scheduled this day's kickoff an hour later, to accommodate those of us who had some extremely important late-night partying meetings. Why I got up early to come hear an opening talk called "The Sands of Time: How Cloud is Changing the Role of the CIO" I have no f-ing idea, in retrospect. But, you know, it's that crazy search/quest thing of mine, I guess. Where will I next learn something new?  Unfortunately, when I saw the small size of the type on the slides, I immediately zoned out and started working on my Day 1 blog post. For the love of God, couldn't someone at IBM create slides that can be read a large room like that? I was in row four and could barely make them out!  I just don't want to work that hard to focus first thing in the morning.  Call me crazy, but I look at the slides, not so much the speaker. (Note: for full-size versions of the images in this post, hit my Defrag Flickr set.)
Anyway, I made some headway on my blog post and was ready for an excuse to stop writing — perfect timing to learn something! Enter a new topic for me: "The History and Future of Calm Technology." This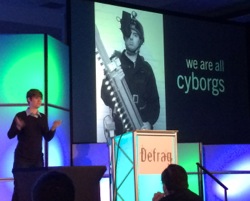 was a talk delivered by researcher Amber Case of Esri — who thankfully had some awesome slides. Yes, with pictures! … I was so ready for some of those. What the heck is Calm Technology, you ask? Turns out it's another one of those John Seely Brown things, and most certainly must have a Wikipedia page, if you're so inclined. But the key point I garnered from Amber was this: it's "technology that gets out of the way when you don't need it." Brilliant — who cannot love that? Somebody asked her at the end if, like, Google Now would be a calm tech, and Amber said yes. Okay, check — gotcha. It just happens in the background. Amber delivered a great talk, and I understood why Eric has been trying to get her to speak at Defrag for years.
Then it was into the breakout sessions — three talks to chose from, in three successive time slots, across three rooms — so nine talks, pick any three. Always hard. I first chose to hear Bart Lorang of FullContact talk about "Influencers or Normals: Who Do You Ignore?" — sexy title, but it really didn't pay off for me. I think I got oversold. The message was really "know who you customer is" — and FullContact can help you do that.  Okay, fair enough.
The second session I chose was my analyst buddy Larry Hawes, of Dow Brook Advisory Services, speaking on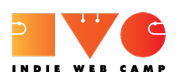 "People and Purpose in the Bigger Network of Smaller Things." Another title that intrigued, but the content was a surprise: it was an overview of a phenom I wasn't really too aware of, but should have been: the IndieWeb movement. Who would have guessed how big this thing could become, after just getting its start as a barcamp in 2010? Larry gave some examples of IndieWeb projects — get this: WordPress, OpenID, diaspora, p3k, Pump.io, idno, owncloud, IndieAuth. (Here's a recent Wired story on IndieWeb by Klint Finley.)
I then caught Phil Windley's session on "Programming With Personal Clouds," where I got to learn more

about the cool new Kickstarter project from his company Kynetx. It's called Fuse, and it's about "connecting your car with the rest of your life."  It's a smartphone app that gives you a second dashboard, an off-the-shelf gizmo that plugs into your car's diagnostics outlet, and a personal cloud to connect your car with the rest of your life. Your own personal cloud — imagine that! No, don't imagine it, cuz it's here.
Then it was back to the main room for a pre-lunch keynote from Pivotal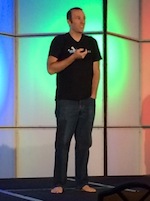 Labs, a company with such a cool culture that EMC found 'em and bought 'em in 2012.  They're based in SF and have several other locations, including Boulder, where they continue to grow and create great software. Their talk, given by a Boulder-based engineer (in bare feet!), was entitled "A Sustainable Software Engineering Culture" — now, how Boulder is that? So, if you're a software professional who's always wondered what life would be like coding in a funky, laid-back, sandals-wearing, bike-riding mountain town, you may want to check out Pivotal Labs. (Notice I said that without ever once using the word hippie.)
After another luscious lunch and more mad networking, it was back into the big room for an afternoon of all-API, all-the time. It was nonstop talks about how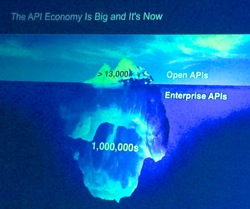 APIs are taking over the world, and you'd better be ready, or things will, like, you know, get all outta control. We heard about the new API Commons initiative, which is "a simple and transparent mechanism for the copyright-free sharing and collaborative design of API specifications, interfaces and data models." We also heard from Intel's API/Big Data CTO, Andy Thurai, about his company's API platform for enterprises. The CEO of Mulesoft, Uri Sarid, told us about his company's many API initiatives, including its backing of RAML, the Restful API Modeling Language and how it's bringing desktop publishing to APIs — really cool stuff.  (I had also learned previously at the Mulesoft booth about some exciting new developments at Programmable Web, which it recently acquired — stay tuned!)  Layer 7, which was recently acquired by CA, got up on stage and gave an API "State of the Union" talk.  The money quote: "If data is the new oil, APIs are the pipeline," said Ross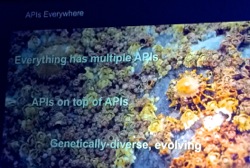 Garrett. LOVE that, being that I live close to North Dakota and all. Hey, if these talks didn't convince you this API thing is for real — well, you must have been writing a blog post and not paying attention… hey, I swear I was!  Totally enthralled, mouth gaping open.
Good thing there was an afternoon break at this point, or brains would have been seriously exploding. Freshly calmed down with iced tea and cookies, we got back to hear a really crazy, wild talk called "Existence as a Platform: Quantified Self Meets the Internet of Things," by Chris Dancy.  Eric Norlin said this guy was the most wired guy he knew.  He was also very funny — he could be a stand-up comedian!  Except he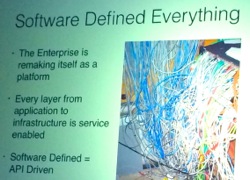 was totally serious about "getting intimate with data."  Then a popular returning speaker got up and gave us a look into the future: Joe Burton, CTO of Plantronics, the original wearable-technology firm. His talk: "Invisible Infrastructure, Prescient Technology, Meaningful Data: Communications 2025 & Beyond."  Okay, science fiction is really coming true — Brad Feld, you are right, dude!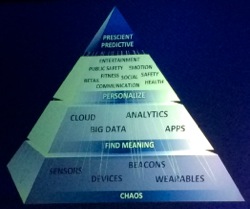 But wait, there was more — underwater robots were about to take the stage! David Lang, cofounder of OpenROV, told us an amazing story of how he and his partner kinda accidentally launched, from a modest Kickstarter beginning, a whole new movement. His talk: "The Rise of the Citizen Explorer." These robots of his, hundreds of which have been sold now, are being deployed in

oceans, lakes, and rivers all over.  What really got them tons of attention was a NY Times piece about how the duo participated in the exploration of a remote underwater cave in California, which legend held had a cache of stolen gold.  Here's a short Men's Journal video of them telling a bit of the story. Wow, all this created out of a garage in Cupertino, after Lang, a UW-Madison grad, had moved West to do something big, he told me, originally wanting to sail around the world. Instead, he ended up creating a whole new Human-Computer Interface / Internet of Things product category. How freaking cool is that?
You'd think that would be enough for one day, wouldn't you?  No, no, no — not for Eric, not for Defrag.  How could we break for beer without hearing about the Big Data Daddy of them all: healthcare.  Yessirree, 17% of our economy.  And who to deliver a talk about how screwed up or behind healthcare is from a tech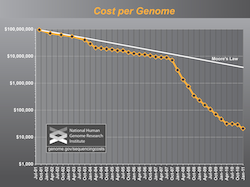 standpoint?  No, not a doc or healthcare professional of any kind, but John Wilbanks — who was a philosophy major, which he said "taught me how to think."  But Wilbanks has acquired some serious healthcare chops in recent times. Check out his 2012 TED Global talk, Let's Pool Our Medical Data, and a program he launched called Consent to Research. He noted the dramatically declining cost of genome sequencing. John is definitely a guy to follow for anyone interested in how big data and technology advances of all kinds are impacting healthcare. And who isn't interested in that?
Wow, another mind-expanding day at Defrag. It's why I would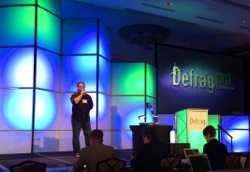 never miss this event, and you shouldn't either. I hope I was able to capture at least a bit of the flavor of this year's event for those who couldn't be there. Thanks to Eric Norlin and his crackerjack crew, and the entire team behind Defrag (including The Foundry Group in Boulder), for another great one!