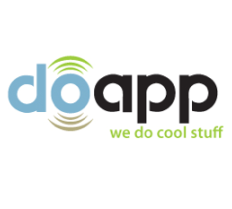 DoApp has gone and done it — and, yes, it's cool.
The highly successful Minnesota mobile startup has been acquired by Newscycle Solutions, a 500-employee Bloomington MN-based firm that "develops and delivers software technology to empower the global news media industry." DoApp has developed more than 1,500 mobile apps for the news publishing and broadcast industries.  All DoApp employees will join Newscycle. The acquisition closed on June 10, 2016; the price was not announced.
DoApp was founded in early 2008 by former Google employee Joe Sriver and a small team. It has been entirely self-funded and profitable for six years. Newscycle Solutions is made up four merged companies and is owned by Vista Equity Partners, based in San Francisco, which was the most active firm in the M&A business last year. (Within the past two weeks alone, it acquired Marketo and Ping Identity, deals valued collectively at $2.4 billion.)
Newscycle describes its mission as "enabling news media to thrive in a rapidly transforming market in order to protect the integrity of information and create more informed individuals and stronger communities." Newscycle has more than 750 media company customers in more than 30 countries around the world.
DoApp CEO Wade Beavers will become president of the company's mobile unit. Joe Sriver will become chief mobile architect. Another founder and board member, former COO and CTO Dave Borrillo, previously joined CoreLogic (NYSE: CLGX) when that company acquired DoApp's real-estate mobile platform in late 2014. He is now VP of mobile innovation for CoreLogic, working from Rochester MN where he has a team of developers. (See my post about that asset acquisition here.)
I asked Wade Beavers for a comment on the Newscycle acquisition:
"I love that another Minnesota company found our technology to be a great fit for them. This is just the beginning of what we're going to do with tech and Minnesota talent."
By my quick count, I've published at least 10 blog posts involving DoApp over the years, beginning in 2008. Most were published both here and on Minnov8.com, where I am a contributor. Some of these posts were extensive stories about the company's development and progress over that time.  Here are just a few from recent years:
• AdWords Is Too Complex, Says Original Google Team Member – Here's His Better Solution: 'Adagogo' (Oct 2013)
• While You Weren't Looking, DoApp Inc. Has Been Quietly Building a Powerhouse Mobile Business (Aug 2013)
•  Minnesota Mobile Developers Clocking Millions of Downloads (May 2010)
All posts published on Minnov8 relating to DoApp are located here.
My HUGE congrats to the DoApp team!
[Disclosure: DoApp is one of the companies in my client equity portfolio. I helped launch the firm in 2008, serving as its VP Marketing.]
The complete text of the news release follows. The link for that release may be accessed here at Newscycle's web site.
_______
NEWSCYCLE Solutions expands mobile business with DoApp acquisition
Purchase of mobile technology company enables NEWSCYCLE Solutions to accelerate its focus on mobile news and advertising solutions for media companies
Bloomington, MN – June 13, 2016 – NEWSCYCLE Solutions ("NEWSCYCLE"), a leading provider of software and services for the global media industry, today announced it has acquired DoApp, Inc., a mobile application development and mobile ad network company.
With over 500 customers using the DoApp platform, the company has developed more than 1,500 mobile apps for the news publishing and broadcast industries. The DoApp product portfolio includes DoApp Mobile Publishing and Advertising, a platform for media companies to deliver content on mobile devices through native apps and the mobile web. DoApp also developed the self-serve mobile advertising solution, Adagogo, providing local advertisers a fast and simple tool to reach customers across mobile news, sports and weather apps. DoApp's latest offering, Readful, is a mobile news content sharing and curation platform.
NEWSCYCLE will integrate the DoApp mobile technology into a newly formed mobile product pillar, enabling the company to expand its mobile offerings for digital publishing, advertising and audience management.
"The DoApp acquisition allows NEWSCYCLE to extend our efforts in helping media companies embrace mobile-first workflows and build new mobile revenue streams," said Preston McKenzie, CEO of NEWSCYCLE Solutions. "By adding the DoApp mobile development expertise, technology platform and ad network to the NEWSCYCLE portfolio, we further expand our ability to introduce new value-added mobile solutions to our combined client base."
"Mobile is an important focus for media companies competing in a digital world," said Wade Beavers, President of Mobile at NEWSCYCLE Solutions and former CEO of DoApp. "We look forward to combining our efforts to offer an even wider range of innovative mobile solutions to the global media industry."
DoApp was founded in 2008, and today the company has a diverse set of media customers in local television, radio and newspaper publishing markets. Based in Minneapolis, Minnesota, the DoApp development and business operations team will join efforts with the NEWSCYCLE team in Bloomington, Minnesota. DoApp's customers will continue to receive the same levels of high-quality service for all mobile products while also gaining the benefits of NEWSCYCLE's global resources and experience.
"DoApp has led the way for media companies to be the best in their markets with an awesome mobile experience that hasn't been matched," said Wade Beavers. "Becoming part of the NEWSCYCLE family will allow us to create a more complete experience that will take publishers forward and connect them to their audiences across all devices."
The transaction closed on June 10, 2016. Financial terms have not been disclosed.
For more information, review the FAQs.
About DoApp
DoApp Inc. designs mobile applications (apps) and websites for the broadcast, radio, and newspaper industries and has built a mobile ad network that enables local businesses to quickly and easily advertise on mobile and tablet devices. The company, based out of Minnesota with teams in both Rochester and Minneapolis, focuses on making apps "cool" and easy-to-use, and has been featured in numerous publications, including Forbes, MSNBC, Bloomberg Business Week, ESPN Magazine, iPhone Life, and many more. DoApp's complete product portfolio encompasses mobile entertainment, productivity, and lifestyle apps. The company is one of the largest app development providers and has numerous patents that are representative of the DoApp's continued innovation in the world of mobile.