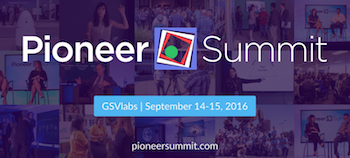 I'm heading out to the Bay Area in a few days to once again cover a great tech conference called the Pioneer Summit, put on by GSV Labs in Redwood City, CA. I loved reporting on it last year — as evidenced by my extensive liveblog. (They moved it up from October to September this year.)
I'm looking forward to the program, which is jam-packed. Is this enough speakers for you? Here's one my data geek friends would like. And hearing what this Silicon Valley legend has to say will be pretty awesome as well.
What is GSV Labs, you ask? It's "a campus of innovation" — I like that description! A very cool place indeed. It's focused on accelerating high-growth, high-impact verticals in the areas of EdTech, Sustainability, Big Data, and Mobility. Utilizing

GSV Labs' resources, founders and entrepreneurs join a global network of ecosystem partners, including corporations, international agencies, mentors, universities, investors, thought leaders, and non-profits. From its Silicon Valley campus, GSV Labs houses about 100 startups, provides acceleration programs, and hosts events.
My connection to GSV Labs is through my colleague Mark Moe (who lives here in the Twin Cities) — he's VP of Global Business Development. Look forward to seeing you there, Mark, and I'm sure some other Minnesotans who'll be in attendance, as there were last year.
I guess I'd better start getting my live-blogging fingers loosened up — which means not just providing commentary, but shooting a whole lot of iPhone pics to go along with it. This will be fun!