Need a new list for the new year? And I don't mean a list of predictions — save us from more of those. I mean a list of hot startups, in the hottest space of all this year: Artificial Intelligence.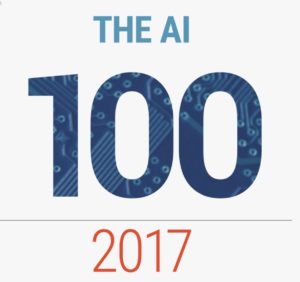 CB Insights just uncorked "The AI 100" at its Innovation Summit, now going on out in sunny rain-drenched Santa Barbara. (Well, guys, at least you were going to be indoors most of the time, anyway.)
Yes, last year may have been all about Big Data, but this year it's AI. Note, however, that the former isn't out of vogue. It's just that things are… evolving. And sort of blending. The algorithms of AI, which is actually a technology that's been  studied for decades, hunger for data — huge amounts of it. The more the better, and the higher quality the better. It's only in recent years that enough good data, and the tools to manipulate and analyze it, have become available to drive advances in AI. And those advances are coming at us in increasing, amazing waves.
So, dig in to The AI 100 PDF. Herewith a couple of screen grabs from the report: a graphic showing the various categories of companies, and an alphabetical listing of the all the lucky chosen. (Most of which have been  well funded, and many of which are already well into revenue stage.)