[NOTE: This post first appeared at Minnov8.com. My friends at Rochester Rising in southern MN also ran a version of it later.]
Living and working here in Minnesota, as I do, you constantly hear about how wonderful our state's medical technology industry is. After all, we're the No. 1 Global Medtech Cluster, as I was reminded again here at the AdvaMed 2016 conference.  We all think we're sitting on this huge industry that will just keep growing forever and bring bountiful riches to our state. Well, it turns out things are not all that rosy.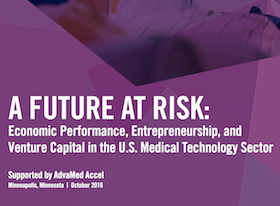 I learned today about a new report, "A Future at Risk: Economic Performance, Entrepreneurship, and Venture Capital in the U.S. Medical Technology Sector."
Here's the gist:
"The American medical technology industry has been suffering from a steady decline of entrepreneurship for more than two decades…"
What? Yes, it's a fact: the numbers associated with this engine of innovation (and jobs) have been declining quite markedly.
We can relate to the medtech startup engine very well here in Minnesota, with our own giant Medtronic having been started by Earl Bakken in a garage in Northeast Minneapolis. (I worked for the company early in my career and got to be taken out for a welcome lunch by the man himself.)
Two charts from the report, shown here, will surprise many. (Click for larger view.)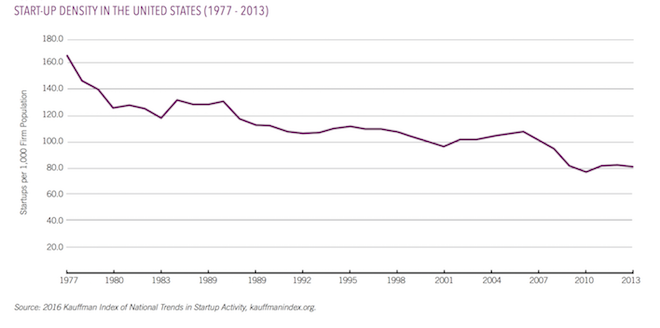 Here's more from the report's executive summary:
"The (medtech) industry is increasingly concentrated in a shrinking number of large players. All of those companies are scouring the globe for medtech innovation. With fewer startups in the system, the industry's dominant companies recognize the long-term threat to innovation represented by fewer companies fueling the industry's pipeline of innovation. All these factors represent a present and future threat to American leadership in the industry, to medical innovation and, ultimately, to patients." Continue reading